So you've made the decision, you're going to buy a house. You might be a little nervous but you know that home ownership has a lot of benefits, like not having a landlord anymore to raise your rent, building equity, the potential for long term appreciation, tax benefits like being able to deduct property taxes and mortgage interest. But most of all, it's your own space that you can make your own.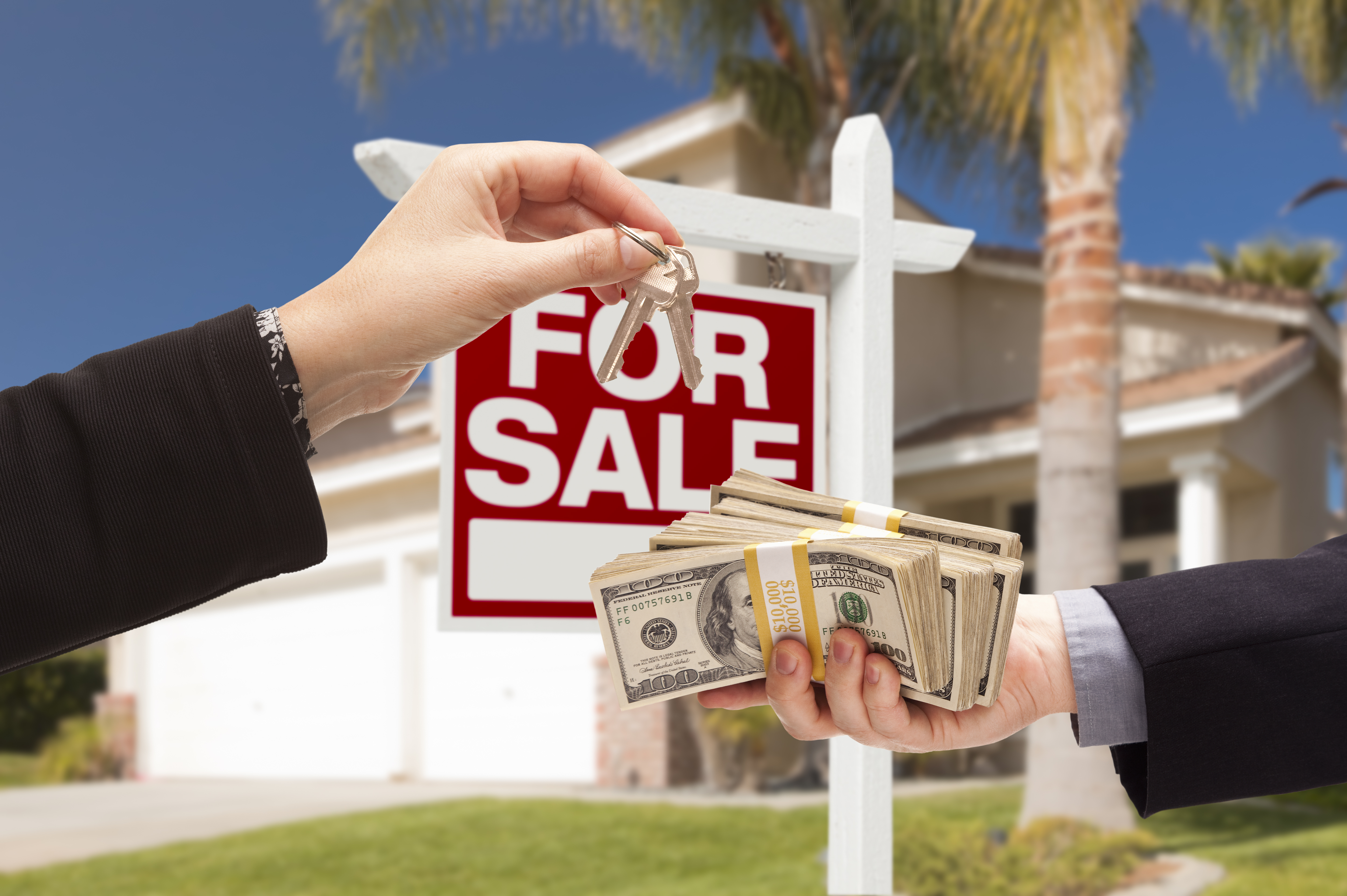 But what does it take to buy a house? It's not overly complicated and there are a few steps that if you get right from the beginning, will make the process easier. I'll describe these steps and if you want my "Buying a House Checklist" as a download, see the link at the bottom of the page.
Let's start with step number one on the Buying a House Checklist: getting your finances in order, which has two parts, the first, getting together the cash for your initial investment and closing costs and the second is getting approved for a home purchase loan. Most people will be financing the purchase of the home so I'll talk about that process as opposed to buying a home all cash. Even if you do have the cash, leveraging the purchase could be a smart way to go about it especially when interest rates are low.
When financing the purchase of a home, you'll need an initial investment, or down payment, of 20% of the purchase price. You'll also need money for closing costs, costs of services needed in the transaction, like a home inspection, appraisal, escrow fee, lender's fees, title insurance and so on. Closing costs can be about 2-4% of the purchase price of the property.
With your down payment and closing costs squared away, be prepared to be able to show proof of these funds in the form of a bank statement. When submitting an offer, it's common practice to send with your offer a copy of your bank statement or statements if your money is spread out over several different accounts, with your offer to show the seller that you have the funds for a down payment and closing costs. When doing this, you can block out your account number and address for security reasons.
Then you'll want to get approved for a loan which is something you want to do right from the beginning as it will let you know how much of a loan you can get and hence, how much house you can afford. I recommend starting with the home loan department of your bank, the bank that you have a savings or checking account with. Since you have an account with them, your bank might be able to give you a good rate. I also recommend talking to a mortgage broker, who can shop around various lenders to find the best fit for you, and a direct lender which is like a bank.
You'll have to fill out a pretty lengthy application which nowadays can be done online. And you'll have to provide the lender with your personal and employment information, your paycheck stubs, W2s or tax returns and your social security number. They'll pull your credit report, look at your income, how much debt you have and analyze what you can comfortably pay each month towards housing. From that, they'll issue you a pre-approval letter stating how much they will lend you and at what interest rate they'll charge you. This loan amount plus your down payment will give you how much of a house you can afford.
You might think that it makes more sense to start the loan process after you've found the house you want to buy. Well, let's pretend you're selling your house and you get two identical offers but one has a pre-approval letter and the other doesn't. Which would you choose? I would choose the one with the pre-approval letter because it shows that they already took the effort to get approved for a loan and should be able to actually buy the house. So if you go house shopping and put in an offer without a pre-approval letter, you might get passed over for someone who does. Having this pre-approval tells sellers you're a ready, willing and able buyer.
But let's say that you did put in an offer without a pre-approval letter and the seller accepted. You go to apply for a home loan and you don't get approved because your credit is too low or your income is not high enough or your debt to income ratio is too high. Or maybe you do get approved, but the amount you qualify for is not enough. If you can't find a way to come up with the money, you'll have to cancel the purchase or the seller might cancel on you. It'll be a huge waste of everyone's time and an emotional letdown. The reality is a lot of people don't get approved for a loan on their first try. So it's better to start the loan process early so that if you're not approved, you can work on improving your situation to try again when you're in a better state.
Alright, so you've taken care of your finances, you know how much house you can afford and now the fun part begins–looking for that perfect home! But before you start looking, it will help you to know exactly what you want in a house. Do you want a detached house or a townhouse or condo? A house means more maintenance while a townhouse or condo means paying a monthly HOA and possibly having neighbors really close by. How many bedrooms and bathrooms do you need? How much space do you need in terms of square feet? Does it have to have a nice back yard? How about a pool? Where do you want to live close to? Determining all this will help you narrow down your search.
The internet has a lot of websites where you can search for houses. There'll be photos, description, location map, etc. Most websites will allow you to create an account where you can save your search criteria and send emails of new properties on the market. It's a good idea to sign up for these so you can see new listings as soon as they are posted for sale.
Next you'll want to see as many houses as you can in person. By seeing houses in person, it will help you to clarify what you really want, what is really important to you in a house. Visiting the properties will also reveal things that can't be gleaned from the internet. Like how is traffic in that area, are there any strange odors, what are the neighbors like, etc. It's not just about checking out the house but the immediate area and neighborhood as well.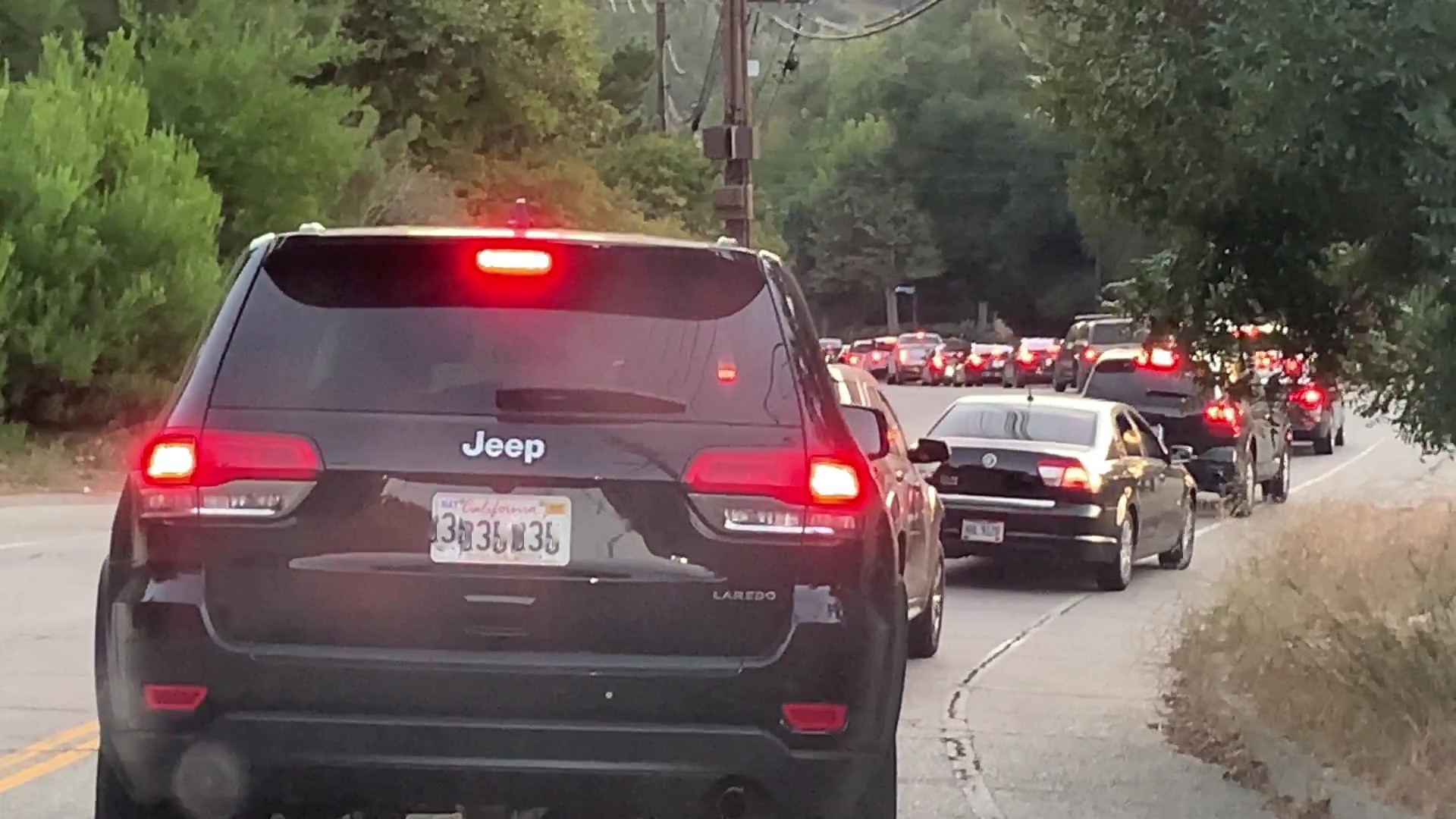 So you've found a few houses you like and want to visit them. To check out a property, you can either go to an open house or schedule a showing with the listing agent. Even better, you can hire your own buyer's agent who will not only help you find houses and schedule showings for you but also help you through the entire process. And most of the time, a buyer's agent services won't cost you anything!
Finding that perfect house will probably take the longest time and be the hardest part of the whole process. Once you've found that perfect house, it's time to put in an offer. You know how I said earlier to go out and see as many houses as possible, this is why it's important because when you do, you'll get a sense of value and if the house you want to buy is priced fairly or not. At this point it's a good idea to survey the market for that area to see what houses are actually sold at to compare and also to find out if the area is a buyer's or seller's market. This information will also help you find out if the asking price is fair, overpriced or a bargain for that market so that you can make an offer accordingly. For instance, if it's a buyer's market and the asking price seems over market value, then you might consider offering less and conversely, if it's a hot seller's market and the house is under-priced, you might offer above their asking price and maybe even shortening the contingency periods. If you have a buyer's agent, your agent can help you look up this information quickly.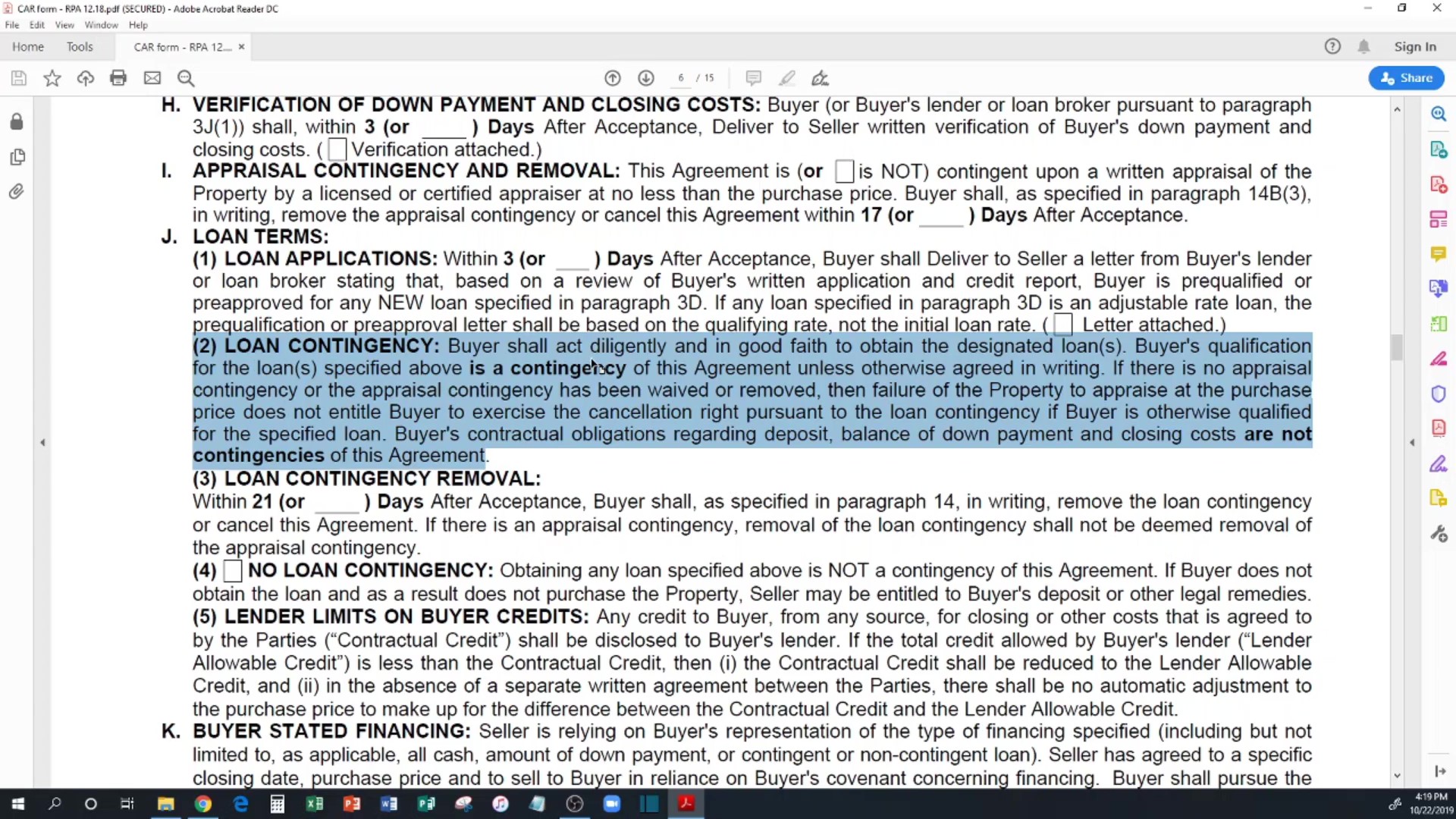 When submitting an offer be sure to use the appropriate forms that contain contingencies to protect you throughout the transaction. Those contingencies will allow you to cancel your purchase without any penalty. The three major contingencies are for the loan, the appraisal and physical inspection. To go over them quickly, the loan contingency is in case your loan doesn't come through, for whatever reason. The appraisal contingency is in case the property doesn't appraise at the purchase price. And the physical inspection is in case an inspection turns up issues with the house that cannot be resolved or are things you as a buyer don't want to deal with. If you have an agent, they'll use the right forms with these contingencies.
Once the offer is submitted, there are three possible responses from the seller: 1) the seller accepts your offer, 2) the seller rejects your offer, 3) your seller accepts your offer but under conditions in a counter offer. If you receive a counter offer from the seller, this is the beginning of negotiations and now the tables are turned and you can respond in one of three ways: accept, reject or counter. Counter offers can continue until there is an agreement, or not. If you have a buyer's agent, your agent will help you by pointing out the pros and cons of any counter offer, help you weigh your options and formulate a counter offer response.
When an offer is accepted, you then open escrow which is the process of completing the transaction to transfer ownership of the house from seller to buyer. Escrow companies are neutral third parties that will guide the transaction according to the accepted offer (and any counter offers). They coordinate payments from the buyer to the seller, arrange for title insurance, pay off the seller and their loans, record the title from the seller to the buyer's name and do a whole lot of other items needed to complete the transaction.
Escrow is when you will do your due diligence to make sure the house checks out to your satisfaction. This is when you should hire for a physical inspection, review the seller's disclosures–as to what they know about the condition of the house, good and bad. You'll also be able to review a natural hazards report, preliminary title report, to see if there are any issues with the title to the house, obtain homeowner's insurance quotes to make sure the house is insurable at a premium you can afford, and review any HOA documents if the property is part of an HOA. Your lender will also have the house appraised during this time.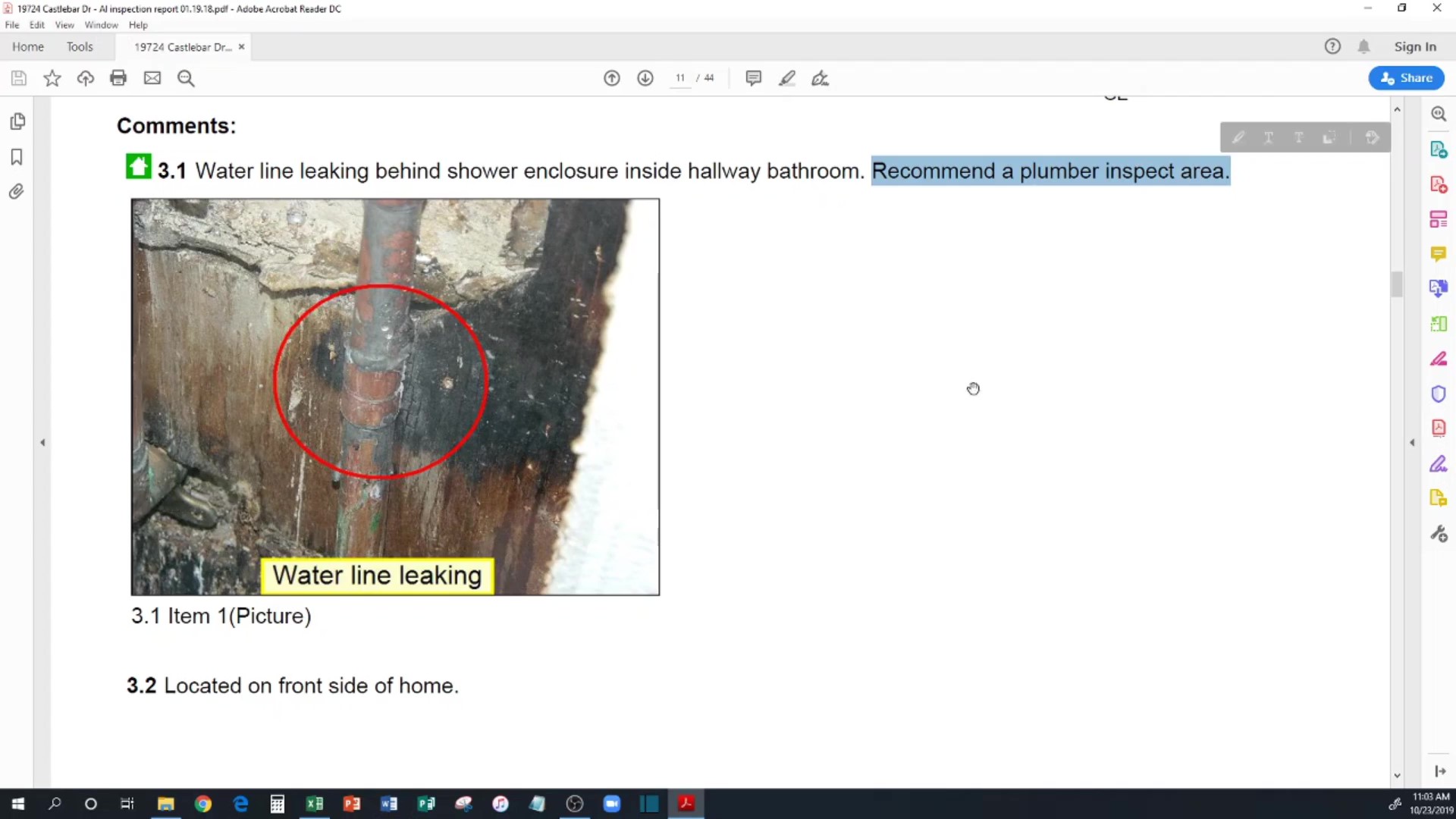 Going back to the physical inspection, if the inspection turns up things that need repair, this offers a second opportunity to negotiate with the seller. You can ask the seller to either repair these items or to give you a credit so you can repair it after the purchase is complete. This is another thing your buyer's agent can help you with.
If issues arise in the course of your due diligence that makes you change your mind about buying the house, you can use the appropriate contingency to cancel the sale.
You've reviewed all the reports and disclosures, the inspection doesn't turn up any problems, the appraisal comes in at value, everything is a green light, so it's time to close escrow. You remove all contingencies, wire your initial investment to escrow, escrow will get the loan from your lender, pay off the seller's existing loan, if any, pay off all other closing costs, then send the balance to the seller and arrange for the title to be recorded in the buyer's name. Once the title, or grant deed, is recorded, escrow is closed and the property has changed hands. The sale is complete and congratulations, you are now a new homeowner!
Click here to get the "Buying a House Checklist" in an easy to print, one page flyer free!