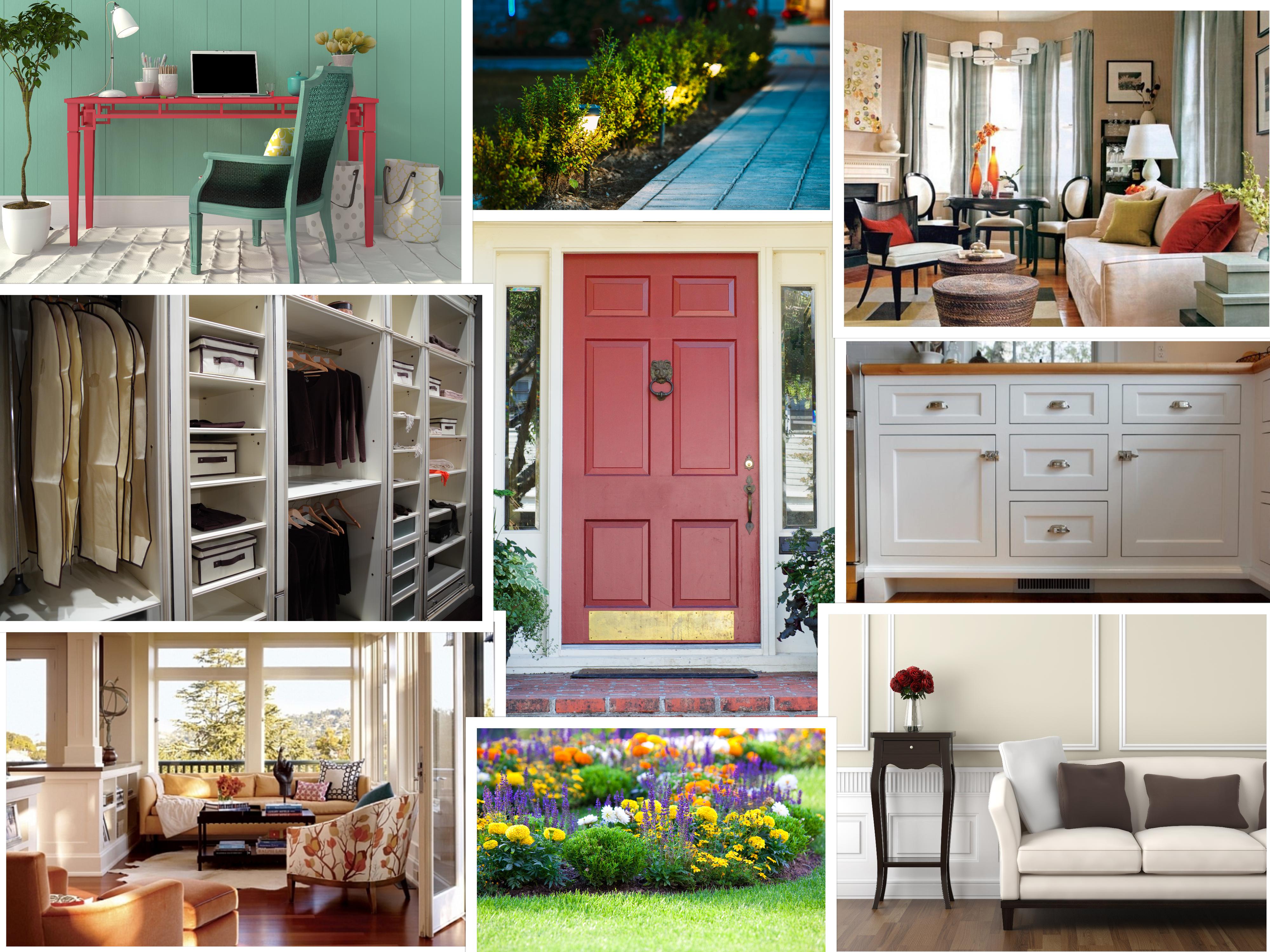 Thinking of Selling Your House? Here are Eight things you can do to get your house ready to sell
Plan the "logistics" of a sale with a real estate agent
Get a home and termite inspection
Do repairs and a "mini" renovation
Improve curb appeal
Declutter
Depersonalize
Purge all unused items and deep clean
Get ready to show!
Step 1: Plan The Logistics of a Sale with a Real Estate Agent

If you've ever sold a car before, you probably took care of certain things before you actually put it up for sale to try to get the most money possible. At a minimum, you might have gotten the car washed to make the car look as good as possible and then took photos of it before posting it on an internet sale site. There was a little bit of planning on your part before you actually tried to sell it. If you've sold something on ebay, you had to do some planning ahead of putting the item up for sale. You took photos of the item, you might have researched how much similar items sold for, you had to think about how you're going to package the item for shipping and what shipping methods you will use to send it to the buyer. Having a plan of action figured out beforehand will help to eliminate or reduce surprises.
Before going about getting your house ready, consulting a real estate agent to give you a timeline with "pre-listing," "listing" and "escrow" periods will help you plan not only the sale of the house but the sale around your life, or vice versa. It can also give you a realistic expectation as to how long it may take for the entire process of selling your house. A real estate agent can let you know the ideal time to "list" the house so you can work backwards from that date to set deadlines for completing different tasks. For instance, if a great time to list is on a Friday in May, and it will take a week to get retouched photos from the photographer, then you know the photographer should be scheduled at least two weeks before then. Then that means the house should be cleaned, staged and ready for a photoshoot before the photographer shows up and so forth.
Step 2: Get a Home and Termite Inspection
You might be thinking to yourself, "Now why should I get a home and termite inspection? Doesn't the buyer do that?" You are right, typically a buyer will arrange and pay for a home inspection as part of their due diligence. Most buyers however will ask the seller to get and pay for a termite inspection. But getting a home and termite inspection now as opposed to letting the buyer do it or waiting for their request accomplishes two things. One, you will be informed of whatever issues may be lurking unseen in your home. This is an opportunity to either fix them or prepare yourself to give a potential buyer concessions in regards to the issues. Fixing the issues will make the home more attractive as most buyers want a home that they can simply move into without having to do any repairs. The second thing this does, whether or not you fix things or not, is it makes you as a seller look pro-active and above board if you provide this report to interested buyers. Being able to say that the home was inspected, and especially if the issues uncovered have been addressed, will make buyers feel confident and safe about buying the house. A smart buyer however, will still get their own home inspector to inspect the house who may uncover issues that may have been missed.
Step 3: Do Repairs and a "Mini" Renovation
The home inspection and termite reports will give you a list of things that need to be repaired or maintained. As mentioned earlier, being able to say that all the issues on the reports were addressed will go a long way in making the house sell faster and for more money. But being able to do repairs will obviously depend on your budget, especially bigger ticket items like air conditioning or appliance issues. It may be more cost effective to get bids to address any issues and reduce your target selling price by the amount of the bids. But smaller repair issues that can make daily living easier should be addressed. Get referrals to a good, local handyman who charges by the hour who, depending on the scope of work, may be able to handle these issues in a day.
There are also some low-cost things you can do yourself to "spruce" up the house. Replacing cabinet and drawer pulls, replacing light switches and outlets are things that don't cost a lot of money and can be done by yourself. Painting worn, scuffed walls and replacing light switches and outlets with new ones can instantly transform the space to look brand new (be sure your switch off the power supply to the switch/outlet before doing this!). Replacing faucet fixtures with newer models will also enhance and modernize the look but will cost more and can take you out of "do it yourself" territory. In this same territory, if stains in the bathtub cannot be removed, consider hiring a professional to reglaze it.
4. Improve Curb Appeal
The outside of your house is obviously going to be the first thing people see so having great curb appeal is important. Get an overall sense of how the exterior of your house looks by standing far enough away so you can see the entire house. Look for areas that need a good cleaning and for trees, bushes or hedges that need trimming back to better show the house. Clear the landscaped areas of any overgrowth and consider planting color flowerfuls in empty flower beds. Have grass neatly trimmed along walking paths.
The entrance to the house will set the tone for buyers entering the home and should look its best. If the front door is worn, replace it with a solid door with attractive, heavy duty hardware. If the door has a lot of life left in it, you can paint paint it and update the hardware. Replace old door bell buttons or clean them up thoroughly to make them look new as well as old door mats. Keep the entry area swept clean at all times.
5. Declutter
To de-clutter means to remove almost every loose item and hide them away to present a clean, neat appearance and create a positive impression on a potential buyer. However neat, organized and tidy you may have all your belongings arranged, too many things in plain sight create a distraction to the buyer.
For instance, if the mantel above your fireplace is loaded with photos, if your kitchen counters have too many appliances, your desk is covered with papers and books, buyers may get turned off by the clutter and not appreciate the home for what it is. Reducing the number of photos to just one or two will help accentuate the mantle while removing appliances and storing them in cabinets will make the kitchen appear more spacious than it is. A clear desk will create a fresh, inviting look to any home office or work area.
Think minimalism and put everything away either in a drawer, cabinet or closet. However, closets should also be made neat and organized as most buyers will want to know how much storage space is in the house. If you have to resort to putting things in the garage, do your best to arrange things as neatly as possible.
6. Depersonalize
While you de-clutter, de-personalize your home as well so that potential buyers aren't reminded that this is someone else's home but can picture themselves living there. Hide away highly personal things like photos. This goes along with "neutralizing" the house of any strong colors or furnishings that reflect your individual style. Repainting walls and trim to neutral, muted colors will help to broaden the appeal to the most buyers as opposed to highly unique colors.
7. Purge All Unused Items and Deep Clean
In the process of decluttering and depersonalizing, you may run out of places to hide things away. Since you will have to move after you sell, you might as well purge yourself of things you no longer use. Clothing you haven't worn in months, that exercise equipment that became a clothes hanger, that appliance you bought on sale and used once, these are perfect items to sell at a yard sale or to donate to your favorite charity. Doing this now will also lessen your packing after you sell.
Most people will not notice when a house is clean — they only notice if it's dirty! After purging these items, give your house a deep cleaning with extra care and attention to your kitchen and bathrooms. Clean the hood vents above your range, clean grease from the stove top, scrub the sinks of any stains and try to make your faucets and fixtures literally shine. You never know how thorough a buyer will look and making sure that every nook and cranny of your house is clean and presentable will make a potential buyer feel better about the house.
Deep cleaning also extends to the exterior of your home. Removing stains on exterior walls, walking paths and driveways can easily be done with a pressure washer and will make a huge difference. All glass, like windows and including the glass on exterior light fixtures, should be cleaned thoroughly so they are clear. Overhangs and soffits will often have cobwebs that can collect dust, leaves and dirt should be cleared away. Most people just expect things to be clean so something dirty will quickly be noticed.
8. Get Ready To Show!
You've done everything to bring it into showing condition and that's a big feat, congratulations! But that's just the beginning as now this show condition should be maintained until you get into contract with a buyer. Now you're ready to show but first you should set a schedule with your agent for open houses and showings during the week. For instance, maybe you can leave the house for the next three weekends for open houses but on the fourth weekend you cannot. On weekdays, maybe you have an activity on Wednesday and Friday nights during which the house can be shown. Discussing this schedule with your agent will help your agent to plan open houses and weekday showing requests around your schedule. However, there will always be those showings requests that happen spur of the moment so it is important to always keep your house in showing condition. Before each showing, remember to put away jewelry and other valuables in a safe place to prevent theft.

Doing these things will help to make your house look its best. Showing your house in its best light may help to extract the maximum price out of a buyer, especially in the competitive marketplace that is Los Angeles. I hope this helps you get the most money for your house but who knows, after having done all this, your house may have such new life and appeal that you may not want to move!